Chapter 5: New Album, New Band, Now What??? 
As an unknown indie band, we did not have the luxury of riding on the coattails of the record label distribution and marketing infrastructure. Once we completed the recording session, we needed to figure out the best mechanism to promote our new product. We set about putting a budget together and then explored the most effective way to deploy the funds to get an optimal return on our investment.  
Let's assume we had a budget of $15,000 to promote the album. This sum of money would not stretch very far or for an extended length of time if we were paying a publicist to reach out to newspapers, radio, magazines, or the other traditional promotional/advertisement methods of that time (there was no established social media platform aside from MySpace). Therefore, we had to look at our objective and then figure out how best to apply our budget to achieve the desired results.  
So, what was the objective? One of the primary goals had always been to simply experience the sensation of performing on grand stages in capacity filled rooms. But now, following 5 years of grinding on the local club circuit, that quest had also morphed into a desire to be validated as a legitimate musician.  
How could we possibly achieve these objectives with a limited budget, a short timeline, and a non-existent fan base? The only viable option was to somehow attempt to scheme our way into being asked to join a tour with an established band. 
Now, how would this qualify as achieving our objective? 
Captive Audience: Assuming the headline band appeals to the genre of listener we are targeting, and the tour consists of 25 shows in 25 cities with an average crowd of 1500 people per night, over the span of said tour we would expose ourselves to 37,500 target listeners. We would effectively get to deliver a 45-minute commercial to 37,500 people across 25 primary and secondary markets. 
Credibility:  There is a tangible marketing and publicity benefit generated from being associated with a tour of a popular band. Even in the role as an opening act, there is an audience perception that you must be legitimate if your band is feature support on a tour of this scale. The opening band certainly benefits from the established goodwill of the headliner.  
Merchandise Revenue and Promotion: You cannot dismiss the significance of revenue that can be generated from merchandise sales on any given night. Even if only 5 percent of the crowd enjoyed our performance, this could translate into 75 individuals purchasing some form of merchandise. We could realistically earn back our tour investment in merch sales alone. Furthermore, if we could sell between 10-20 cd's per night, it would start the circulation of our music in every city we visited. 
Soooooo, now that we have determined we can achieve our objective from getting on a big tour, how the hell do we get on a big tour!??? 
We were unable to contribute any meaningful tour value as it relates to driving ticket sales or publicity. So, I pushed the idea of contributing to a tour by using our promotional budget to cover operational costs. Tours are extremely expensive for any sized band, the bigger the band the higher the production costs. If we could angle our way onto a tour by offering our promotional budget to assist in their operational costs, we would benefit 10-fold over any other form of promotional tool.  
Now, once again, how the hell do we get on a big tour!???
Chapter 6: The Approach 
in 2006, I was 28-years old, and aside from a passion for playing live music, I had concurrently spent the previous 7 years building a brokerage business in the recycling industry; which had grown to be quite successful.  
The knowledge and confidence gained through those years of operating a business and learning how to confront obstacles and overcome adversity was a critical factor in cultivating a belief system that I could achieve any goal if committed to the pursuit. I took that same mentality and applied it to my music related ambitions. 
It looked something like this: 
Identify your limits and weaknesses and surround yourself with people that compliment your strengths. One of the greatest pieces of business advise I have ever been given was to "surround yourself with more capable people than yourself".  
As it relates to music, I was a novice guitar player and an average singer, but I had solid stage charisma, lots of confidence, and could write some decent songs. Therefore, I needed to surround myself with skilled musicians that could refine the song and drive the sound. I was not threatened that I would be upstaged by their musical prowess, but rather inspired and grateful they were willing to share the stage with me. Leave your ego at the door, and if presented, take advantage of any opportunity to learn and thrive from those who can enhance your growth.  
Network, network, network. In my brokerage business and like many other industries, relationships are the foundation of success. In competitive markets often the only thing that separates you from the competition is relationships and reputation. Be sincere and emotionally invested in your interactions, you never know what life changing prospects can develop from the most random connection.  
In 2004, I had casually befriended one of the established promoters in Vancouver and persuaded him to hook me up with a backstage pass to see G Love perform at the Commodore Ballroom. I was then introduced to G Love following the show and he graciously decided to join a group of us for some late-night drinks out on the town. I was overjoyed with the opportunity to hang out with a guy who had such a profound influence in my life; and thankfully we hit it off. Over the span of the next 3 years our friendship would blossom as I would take every opportunity to connect with him when he came back to town. This relationship is what ultimately opened the door to our big break, and it all started through the innocent schmoozing of a local music promoter. 
Set goals but be adaptable. Establish a destination and formulate a roadmap to reach that destination but accept that there will be intersections and forks in the road that might deviate course and alter the path. There are usually multiple routes to the same destination; Be adaptable, life is not linear.  
From the onset my primary goal was to find a path to experience performing on the big stages. Ideally, we would have worked the local small bar scene, build an organic following of fans, start expanding shows into the extended region, and ultimately start touring nationally as a feature band. However, I realized that my first band (Davis Trading) did not possess enough collective talent to take the act any further, and by the time Redeye Empire formed I was already too established in my business to simply walk away and get in a van to start touring full time. I was not deterred by these circumstances and still sought to carve a path towards my original goal. I simply had to modify the route to reflect the reality of present conditions. 
Invest in yourself. I have always maintained a belief there is no better investment than in yourself. The traditional method for a band promoting an album involved paying advertisers, promoters, publicists, along with long costly tours of playing small clubs. I had a different approach. Rather than pay a 3rd party agency to perform some indifferent promotion blitz on our behalf, I decided to invest in ourselves and attempt to utilize the entire budget towards getting billed on a big tour. I placed far greater value on being able to directly interact and connect with our audience as opposed to outsourcing a publicist to try and sell us to an audience.  
In the Fall of 2006, with our shiny new album ready to go, we went out on a limb and submitted a proposal to the only band who not only fit the profile and status that would allow us to achieve our objective, but whom I also happened to have a rapport with. It was still a longshot. Business and friendship only go so far, there are many factors taken into consideration when a tour lineup is being billed. But, like most things in life, timing is everything… 
Chapter 7: Phone call from Jory
Early Fall evening in 2006, Driving on a highway in Edmonton, AB, when my phone rings. Goes something like this: 
Me- Hey bud, what's up? 
Jory – are you sitting down? 
Me – I'm driving a car in Edmonton, so technically yes 
Jory – you might want to pull over 
Me – this sounds interesting 
Jory –   They accepted our offer! you're going on tour…with G Love! 
Me – (full body numbness, temporary loss of eyesight, partial erection, near car crash) Please tell me you are not joking, Is this for real!? 
Jory – Yep, I have the contract in hand. Saddle up, your first show is in Minneapolis, in a few months. 
And just like that, my world was about to change, and so was my underwear.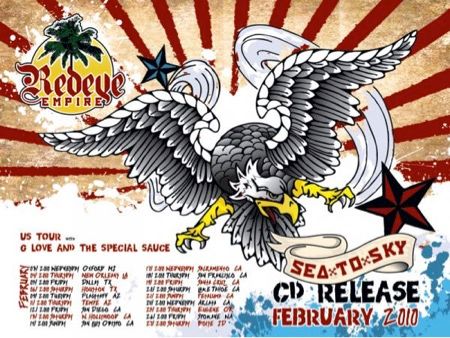 2010 Tour Schedule, 2nd tour with G Love
Chapter 8: First Show
First Show of the 2007 Winter tour: 
February 14th, 2007, Minneapolis,  
The first night of the biggest show of our lives was scheduled in Minneapolis, Minnesota, at the well travelled 1st Avenue Theatre. Made famous as the primary site location for Prince's iconic film, Purple Rain.   
We had flown the 1800 miles from Vancouver to Minneapolis a day before we were scheduled to perform our first show on the tour. Upon arrival we were greeted with the ultimate comfort vehicle a travelling band could ask for, a Prevost tour bus, which for any seasoned musician who has grinded it out touring in mini vans, is like living in the Taj Mahal. The "rock star" experience starts and ends with a tour bus!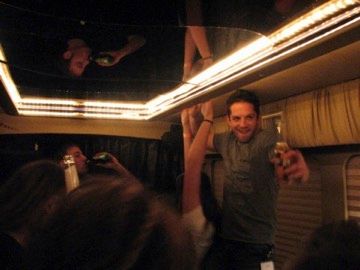 One of the nightly post show Tour bus party's we would host.  
This bus would become our home for the next few months as we crossed the continental US from coast to coast, playing dozens of shows, in dozens of cities, through dozens of states. But it all started here, in Minneapolis, on this night where we would need to prove ourselves.  
It is difficult to accurately describe the range of emotions that courses through the mind and body when you are about to walk onto a stage and play your first concert in front of thousands of people. The anxiety that had slowly been building over the prior few months in anticipation of the tour; worried that I would wake up one morning to learn that we were dropped from the tour, was now giving way to the colossal fear that I was about to walk onto this stage and make an ass of myself. We were not road warriors; we had not tightened up our performance and built up the confidence that can only be established through countless live experiences as a unit. Yet here we were, about to reveal ourselves with a full frontal. I truly believed that if we did not perform to a standard befitting of such a coveted position, we would be kicked off the tour. It is never a good thing to embarrass the headline band on a national tour by ruining the ticket buyers experience before the main event has even begun!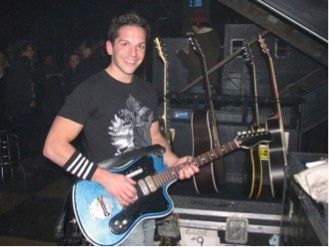 Backstage before the show at the 1st Ave, posing with G Love's beautiful vintage Eko guitar 
It was an hour before the doors to the venue opened and there was already a massive line of eager concertgoers forming around the city block, willing to brave the freezing Minneapolis winter temperature for the opportunity to get a prime position in front of the stage. Prior to this, the only line I had ever seen at one of our shows was at the urinal. It also made me realize that we needed to step up and look like we belonged, even though we probably belonged in line at the urinal.  
Our name was plastered on the marquis, we had our instruments set up on the stage, and we were physically sitting on the tour bus outside of the venue, but it still did not seem possible that this dream was about to happen. How could a band that has only played half a dozen shows, mostly to empty rooms, be offered a platform of this magnitude to showcase our music?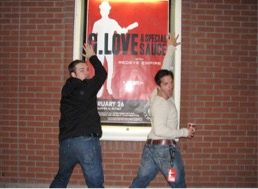 Eric and Gabe strike a pose 
The time now is 8pm and we get word that our set is to start in 15 minutes. The venue is jam packed with 2000 people and I am stone cold petrified. None of us really know what to do, so we decide to walk onto the stage, strap on our instruments, and stand behind the closed curtains. Essentially the antithesis of "cool". Even the stage crew looked at us like we were idiots. We stood there, behind the red velvet curtain that separated us from what felt like the gallows and our executioner. And then in an instant, the music in the room faded out and the lights began to dim. The curtain slowly opened and, BOOM, there we were, standing on stage. The crowd was more surprised than we were. Why are these guys standing on the stage already? Shouldn't they walk out on to the stage after the curtain opens? Did the curtain open by accident? Nope, we are just complete amateurs.  
I honestly don't remember much about that first performance, but we must have done a good job because we sold out of CD's and I received my first ever request to autograph a breast. Another lesson I learned that night, use a sharpie, do not use a bic pen on skin.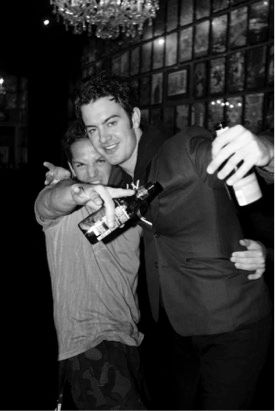 Post show backstage with G Love, Fillmore, San Francisco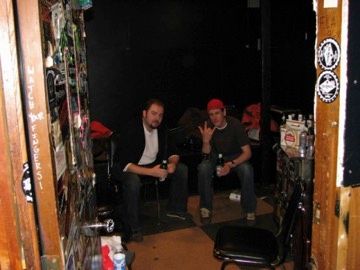 Micah and Mike kicking it pre-show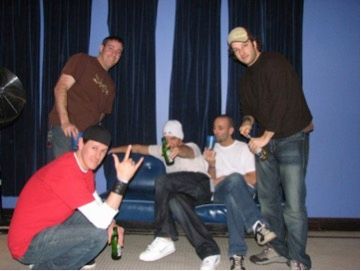 Backstage somewhere…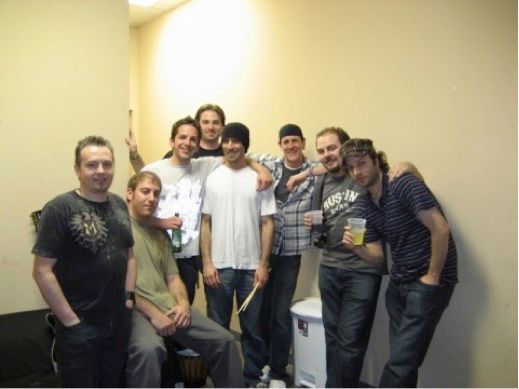 The Warehouse, Houston Texas 
                                       Family photo backstage before the last show of the 2007 tour. 
Chapter 9: What Happened? 
It was a combination of hard work and fortuitous circumstance that paved the way to securing a spot on that breakthrough 2007 tour, but the relative success we did enjoy on that and the following tours was not due to luck. You might be able to manipulate, strategize and angle your way onto the stage, but there are no tactics that can persuade a crowd to support your band if you don't have some game.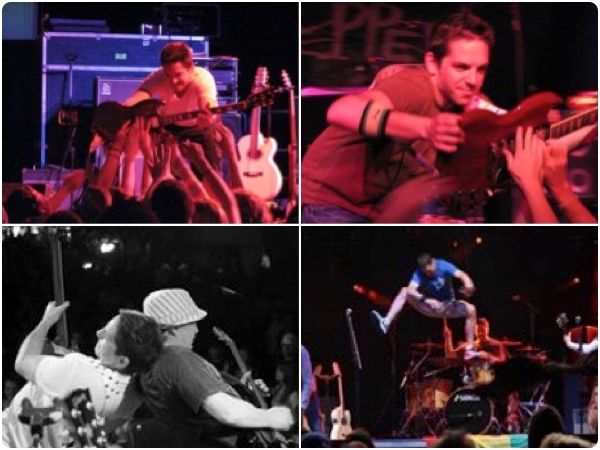 I have been asked on many occasions why we did not continue to pursue our musical journey. What had started as a pipedream quest to experience the lifestyle of a "rock n roll" tour, had transitioned into multiple North American tours (2007-2011) and a viable opportunity to engage in a lifelong career playing music. So why stop?  
The truth is, as much as I loved and treasured every moment of those tours, I was not dedicated or hungry enough to make the sacrifices necessary to succeed. Was there potential to reach greater heights for Redeye Empire? Possibly, but certainly with no guarantee and at what cost or sacrifice? Would I go back and do things differently and would the outcome be any different? There are no assurances that dedicating your heart and soul to an artform is going to elevate you to elite status reserved for the truly gifted or remarkable individuals; and I am not arrogant enough to believe I possessed the talent or ability to excel to the highest level in this particular arena. I think whatever beneficial standing I would have achieved had I committed all my energies to music, would have been far less fulfilling than the sum of all the collective experiences outside of music.  
An argument can be made that desperation is the greatest motivator to drive success. If there is no backup or "plan B" you will be far more driven and committed to whatever discipline you are pursuing. While the "putting all your eggs in one basket" approach does create more stress and pressure, it also enables you to focus all your energy to the craft and strive to realize your potential. I, on the other hand, had already achieved a level of personal satisfaction and career prosperity that I was not willing to sacrifice. I was content and grateful for the amazing journey we were blessed to have experienced and did not aspire to continue the touring lifestyle. 
 This is not to say that I do not love our band and playing live music; we have continued to perform over the years, mostly in the Pacific Northwest, but strictly for the genuine passion of creating and performing music with my friends.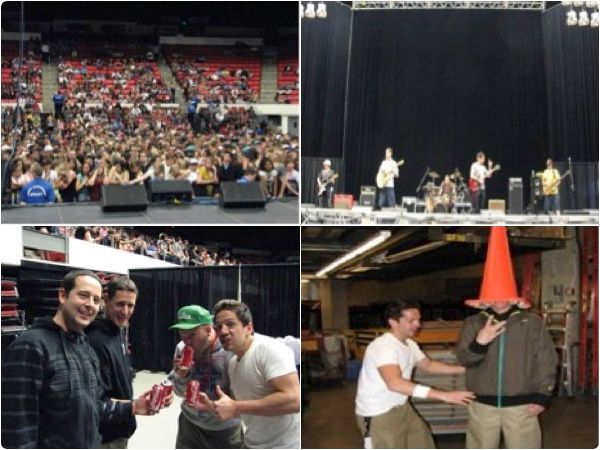 Redeye's first arena gig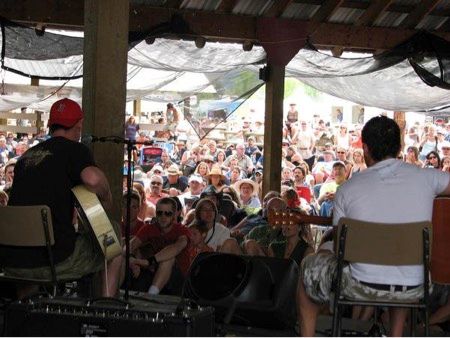 Mike and Gabe solo acoustic performance, Salmon Arm BC 
Throughout our 13 years as a band, we have toured and shared the stage with the likes of G Love & Special Sauce, Slightly Stoopid, The English Beat, Michael Franti, Soja, Pepper, Iration, Fishbone, Arrested Development, Xavier Rudd, Rebelution, The Dirty Heads, Sublime With Rome, and so many other amazing bands I cannot possibly list them all. And while there is no fame, notoriety, or monetary riches for Redeye Empire; there are a mountain of priceless memories that I wouldn't change for the world.  
I would be remiss not to mention the addition and contribution of Ryan Davis (drums) and Jay Leonard Juatco (lead guitar) to the Redeye Empire family, whom have both been long standing members of the band. Their influences have helped refine and define our sound and I am humbled every time I step on stage with these musical giants.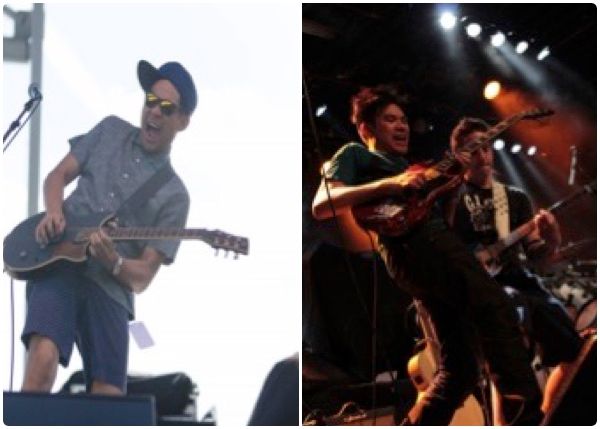 Jay Shredding. One of the most talented and prolific guitar players in the world.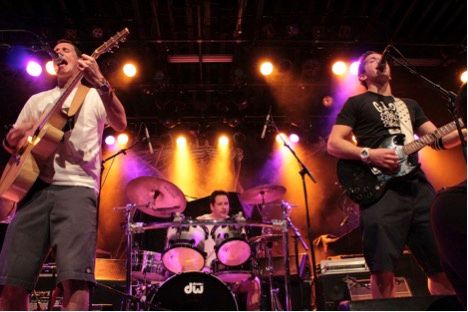 Ryan Davis, joining Redeye Family.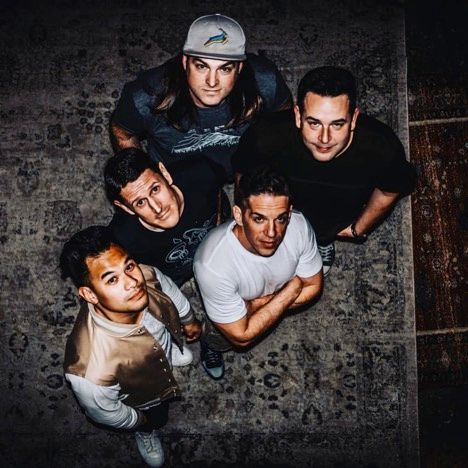 Chapter 10: THE END 
I often question whether I have in fact accomplished anything truly noteworthy. We have never headlined a sold-out show in a large theatre, we have never received a musical award, and we have never enjoyed mainstream recognition. So, what defines success? Is there a dollar amount you must earn to validate your status? Is there a level of notoriety you must achieve to justify your standing? Is there a bar or threshold you must surpass to proclaim success?  Is the demand of your autograph the defining yardstick of one's worth? I suppose these are subjective questions upon which the answers are measured according to one's personal expectations.  
In 2001, with no musical background, if someone had told that 24-year old fan watching G Love perform at the Showbox Theatre, that in 5 years they would be touring together, he would have looked at you like you were insane, followed by a stern dick punch. I suppose in that context the story becomes a little more compelling and the scale of accomplishment carries a little more meaning.  
This is by no means a revolutionary story; this is simply our story. One that I thought I would share with those who might be interested in knowing a little more about our band and the amazingly fantastic journey of some remarkably average guys. We limped into the music world the same way we are exiting it, with a little album that never intended on being anything more than a fun project with some good friends. The only objective of this final album is to say farewell and thank you to all the amazing people we have met along that journey.   
I am not sad this journey is over; I am just grateful it happened. 
With profound gratitude, 
Gabe